Here is a quick glance at what we did this week at our Tot School. Scroll below for details & links about each activity.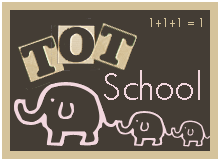 Charger is 22 months and Mustang turned 4 this week
Pom Pom Transfer
Toy Yard Sale
Punching Ball
Playful Patterns
Winners Circle
Baby Einstein Blocks
Money Match-Up
Chicka Chicka 123 Number Match
Counting Caterpillar
Chicka Chicka 123
Bunny Money
Checkout
1+1+1=1
to see what other Tot Schools did this week!