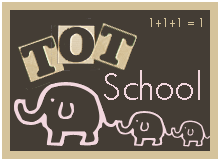 Charger is almost 22 months old and is amazing me each day with the new things he is doing and saying. He enjoys learning new things and gets very interested when I tell Mustang it's time for school. He often comes and sits at the table with us, and stays between two and twenty minutes depending on his mood that day. When I came across this awesome blog:
1+1+1=1
I knew I had found something perfect for our family.
'Tot School' in my thoughts is a planned Unschooling/Montessori session for your tot each day. There are million and one ideas on there I want to try for Charger and Mustang both in addition to the million and one ideas I already had for them, so we should be pretty busy :)
I am not the best blogger-I tend to blog a whole bunch one day and nothing the next, so if we do something Tot Schoolish, I'll let you know. Maybe I will get better at this and do a weekly or daily recap each day. But dont hold your breath.