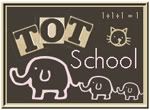 Mini Cooper is 20 months.
It's been awhile since I've done a wrap up on only Mini Cooper, so I've got quite a bit for this post!
Our letter this week was N.
Our N alphabet box-N is for nest, number nine, note, nickle, notebook and necklace.
N is for numbers-I gave Mini number stickers and she put them on her N.
Do-A-Dot N from
Confessions of a Homeschooler
. Mini LOVED this and was sooo MAD at me when I made her stop-she wanted to paint the whole page. She is not two, yet, but she is trying hard to act like she is.
She sorted n's from
Confessions of a Homeschooler
. Well, not really. I had printed this for Charger but she wanted a try in the worst way. So I let her try.
I 'math' we have been working on colors and shapes.
I printed off two sets of these sweet little princesses from the new
Princess Preschool Pack
from Jolanthe (Homeschool Creations) and Carisa (1+1+1=1). We-er I-matched the sets. I am trying to get her intersted in doing this sort of activity on her own. She LOVED the little princesses, didnt really understand the game, though.
I brought out our Kid O shape puzzle. She doesn't 'know' her shapes (or at least I dont know if she does-she cant really talk yet), but she mastered this puzzle in no time flat. I think this puzzle will be going in storage!
I printed these strips from
Kelly's Kindergarten
awhile ago for my older kiddos, and was impressed at how well Mini Cooper did with them. The bears are from our Bear Family Math set.
Mini Cooper LOVES to color. I think she could color all day. This week I printed her the color by number princess from the Princess preschool pack. And T is for Toy Story from the
Toy Story pack
also from Carisa(1+1+1=1) and Jolanthe (Homeschool Creations). She LOVES Buzz, and was certainly excited to get to color him. Buzz was one of her first words :). These packs are AWESOME!!
I made these pocket chart visuals (just from Googling chickens) for use with Mustang's math lessons. Mini Cooper had a blast putting them in and out of the pocket chart.
Other things she chose from the shelves this week:
Discovery Toys giant peg stacker.
Her Melissa and Doug insects puzzle. She decided we needed to sing 'Itsy Bitsy Spider' with the spider puzzle piece.
And she played with our basic letter blocks. She made a couple towers and then tried to carry them around. She's got a few things to learn about blocks :).
Hope you are all having a great Mother's Day. We finally got some great weather, and it has been a joy spending it with our family.
God Bless!!