So next up in telling time was the obvious-clocks!
We received this box of 6 small geared clocks last year as part of a review last year and I am so glad I went with a set of small clocks instead of a large one.
Everyone enjoyed having their own clock to explore. We checked out the different parts of the clock-the face, the hands, and the minutes.
Then we started talking about hours of time. Turns out, both Mustang and Charger had a good grasp of the hours of time. So, we took turns calling out a time and all setting our clocks.
For review the next day, I set out this tray. It contains 2 copies of a worksheet I found on
The Teacher's Guide.
I laminated one copy and filled in the answers, then I set a worksheet, clock and pencil for Mustang to do this work.
The object was to set the clock and write the time on her worksheet to match the worksheet. Mustang would show me her clock so I could check her work before moving on. This was not hard for her, but was a great way to begin learning to write time in addition to telling time.
I am linking up to: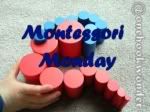 God Bless and GO CARDS!!!