Mustang is going through a horse phase. I had no idea when I picked her blog nickname how well it would fit her! Aside from begging me-daily-for a horse, she has been choosing horse books, movies, shows, toys, pictures, shirts, etc. You name it, if it's about horses, she wants it! So, when we had an opportunity to review a unit study on horses, I jumped at the chance!
Homeschool Legacy
is a company run by a veteran homeschooling mom. Sharon Gibson has been homeschooling for over 16 years and wanted to produce products to help families build a strong, Godly, legacy within their homeschooling. She created Once-A-Week unit studies to provide a fun, creative outlet from the drier textbook of regular studies. At the same time, they allow the family to work together, making lasting memories while they learn.
Once-A-Week
unit studies are designed to be the focus of your studies one day a week. Sharon has written out a helpful schedule (that you can use or not) to help you plan each day of your study. Her suggestions are to do a small part each day (such as the read-aloud and individual reading), the family devotional on Wednesdays, and then to focus all of Friday on your unit study information AND field trip!
Each study includes activities for
Independent Reading
Family Devotional
Science
Art
Research/Language
Field Trip
Family Movie Night
Stump Your Dad Trivia
In addition to the schedule, and subject activities, the lesson plans include a book and movie list. Each week, your family will have a read-aloud to go with the theme. Your student will have a book to read from each day, and there are also a number of books that you will need for your lessons. The book list includes the title, author, and even a library call number to help you find your books. If you have a good library, you will be able to find all or most of the books needed for this unit study.
Homeschool Legacy's Once-A-Week studies are designed so that your student can also fulfill the requirements for a
Boy Scout
or
American Heritage Girls
Merit badge while doing their lessons and learning with the family! While we are not part of either program, I can certainly say I would appreciate being able to save time and do both school and fun at the same time! If you click on the links, it will take you to pages that explain how they tie in and which lessons are available to be used for Merit Badges.
So what did we think??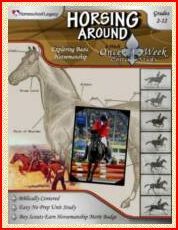 We volunteered for and were sent
Horsing Around
(well okay Mustang begged for it, lol). It is designed for students in grades 2-12, but since Mustang is an older 1st grader with a love of horses, I thought it might be a good fit for us. Especially since she is so interested in horses right now. I love being able to focus our studies on things my children are interested in. So, really, you could have just said the word 'horse' and Mustang would give it 5 stars, but I want to explain a little more how we used it.
Let me start with the book list. The book list for Horsing Around has some wonderful titles on it! Some we had heard of, and some we hadn't. The unfortunate part for us, is that we don't have a library card! Our local library is about 30 miles away and we would have to pay yearly. I do plan to get one in the next year or two, but I wanted to be sure that we would get our money's worth before we joined.
Because of this, we relied on our own library and Internet sources for the unit. I don't feel this put at a huge disadvantage for learning, especially since we actually owned a number of the titles on the list. However, many of the lesson plans said read this book and then do this activity. I had enough information to choose a book to use, but I can't say if all the recommended books were a good choice for the unit because we didn't read them. Some of the books we already owned and but had never read. Turns out they were very good books!! I do want to add, that the writer offers a list of optional books if you aren't able to find the ones suggested and some wonderful tips on how to choose others if your library doesn't carry the ones suggested.
The family devotional was probably my favorite part. I just love being able to tie our Bible lessons into life. The devotionals give a passage to read and discussion ideas. Just enough to give direction without being hard.
The science, art, research and language were also enough to give direction without being hard. You as the mom could assign the full idea or a part of it. Your student could do just the minimums or take them to the next level. Because the lessons are able to be used for 2nd grade up through 12th grade, it is imperative that a lesson plan be flexible. Once-A-Day unit studies really lives up to that word!! But, many moms need a thought out, planned out, hand holding lesson plan and it does that to!!
Another part I liked were the Field Trip ideas. If you follow the Horsing Around lesson plans, you will take a field trip every Friday for 4 weeks. Due to our schedule, the plans didn't work for us at this time, but we did have a number of situations where we were able to explore horses over the last month, and we used the things we were learning while we were there.
These were taken at a local fair.
The kids each had a great time getting to ride a horse for the first time.
There was also a pony.
Charger was in a parade and one of our friends rode her horse in the parade.
Charger trying out the horse AND his cowboy boots. She told us about the saddle and other things about riding a horse.
We are planning a trip to a local stable soon. I just wish it would have worked out during our unit!! The great part is that, since my children are younger. We can pull these out every few years and do them again!
Overall, we enjoyed this unit. I would admit that, as with any unit study, you
could
do this yourself. But, it's so nice to have a complete, easy to follow, unit guide already written out for you. And though I focused a lot on them, this plan is more then just a book list and ideas. It is well worth the modest price of $15.95.
Heritage Legacy
currently has eleven different titles to choose from, priced from $15.95 and up. They currently have a special of free shipping with any purchase of $50.00 or more.
My fellow crew mates had the chance to review ten of the Once-A-Week studies, and you can read what they had to say on the
Schoolhouse Crew Blog
.
Thanks so much for trotting by! God Bless!!
Disclaimer: I received a PDF copy of Horsing Around in exchange for an honest review. All opinions expressed are my own. I was not paid for my review.