If you are one who likes to use DVD's in your home learning (or after schooling), you need to know about a company named
Marshall Publishing
. Over the last 30 years, they have produced over 35 television and home video programs. These shows have been seen on broadcast TV and PBS. Many of their titles are available for purchase on DVD!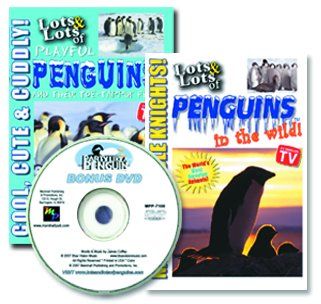 One of these programs is,
Lots and Lots of Penguins
. We recently received this DVD pack for review, and if you are planning a unit on Penguins this winter, you will want to put this one on your list!! There were 3 DVD's in this pack, so I will tell you about them separately.
Lots and Lots of Playful Penguins and their Toe-Tappin' Happy Feet
is a 75 minute DVD to introduce your young children to the many worlds of penguins. Each of the 17 species of Penguins are featured in this DVD. For each species, the narrator tells us:
The name of the species
Where the species lives
The approximate height and weight of the species
Some identifying physical feature
Information about how, where, and how many eggs they lay
an interesting fact about the species such as how they got their name
The video footage shows the penguins, for the most part, in their natural habitat. You can see their movements, hear the sounds they make, and see them interact with other penguins. Speaking of sounds they make, did you know that each species sounds different?? I didn't!
The narrator of Lots and Lots of Playful Penguins and their Toe-Tappin' Happy Feet is actually a penguin himself. He is a cartoon that introduces you to real penguins. Throughout the show, he and the other penguins sing and dance to Toe-Tappin' songs.
Lots and Lots of Playful Penguins and their Toe-Tappin Feet
can be
purchased
, from Marshall Publishing, for $12.95. Below the information on the order page, there is a transcript of all the facts in the DVD. Minus the silly extras, this is word for word what is in the DVD. You can read the information provided for the 17 different penguins. This is very useful if you want to review the information after the DVD, or even teach it beforehand.
Oh the kids really liked this one! We watched Lots and Lots of Penguins as rewards for completing all our assigned work for the day. My children found the narration to be interesting, the music to be fun, and have asked to watch it many times since. The Marshall Publishing website says "you'll want to jump out of your seat and dance along" and that is exactly what Mustang did as she pretended to waddle around the living room more then once! My children are ages almost 1 to almost 7 and they all liked it. I can't wait to bring this one back out when we do our penguin unit in January!!
Lots and Lots of Penguins in the Wild
is a very unique DVD. It is
literally
video footage of penguins. That's it. The camera crew is in various locations watching penguins and they bring you along to watch. You can hear the penguins squawking, watch them diving for food, swimming in the water, and even hear the engine of the camera man's boat starting and stopping. There isn't any narration, any songs, or any graphics. It's an opportunity to be on DVD Penguin Safari.
Lots and Lots of Penguins in the Wild
retails for $9.95 and is also available from
Marshall Publishing
.
What did we think?
Well, I made the mistake of allowing my children to talk me into letting them watch Lots and Lots of Penguins in the Wild immediately following Lots and Lots of Playful Penguins. Why was that a mistake? Their expectations were that it would be more of the same style of DVD as the last one. They were ready to do more dancing and continue to be silly. We were not expecting the style of movie that we began watching, and soon found ourselves a little bored.
Since that first showing, I have realized a much better way to watch this DVD. After learning the different types of penguins in the first DVD, you can try to find them in the second DVD. Discussion of what is going on in the DVD is helpful for young children to stay focused.
My children are not old enough to do this, but I think it would be great to use with an older student as a penguin observation lesson. I would show the movie and then ask my student to write a page or so detailing what they observed the penguins doing.
This is a great example of a true nature DVD, but unless you have a plan in mind for this DVD, I am not sure I would recommend this one. But, it certainly has a lot of possibilities. I also want to mention that the camera quality is raw and you see the camera zooming in and out and blurring from time to time.
The last DVD is a bonus if you purchase the Lots and Lots of Penguins set. Party Like a Penguin is a DVD of Marshall Publishing's YouTube hit song, which you can watch above.
My children loved the little DVD, but just note that it is a continuous repeat loop. Mini Cooper came to tell me that the DVD player was broken because it wouldn't stop playing the same thing over and over, lol!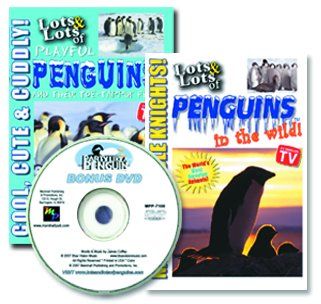 The three DVD set
includes Lots and Lots of Playful Penguins and their Toe-Tappin' Happy Feet, Lots and Lots of Penguins in the Wild, and Party Like a Penguin DVD for $19.95. You can use code TOS27 to get free shipping on your order!
In addition to Lots and Lots of Penguins, Marshall Publishing produces many other titles to choose from. My fellow Schoolhouse Review Crew mates reviewed a variety of different titles, check out their reviews on the
crew blog
. You may find one that is a good fit for your family.
Thank you for waddling by!
God Bless :)
Disclaimer: As a member of the Schoolhouse Review crew I received the above DVD's in exchange for an honest review. All opinions expressed are my own. I was not paid for this review.