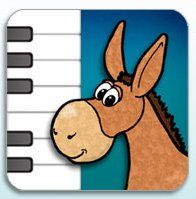 Kinderbach
is a program designed to teach piano lessons to young children. Kinderbach has programs to use at home, at a school, and a new program available in app form for your iPad! We tried out an at home, six month subscription.
Kinderbach at home is a series of weekly lessons that are streamed online. Designed for children ages 3-7, these fun filled streaming lessons are taught by author Karri Gregory. She is in most of the sessions and helps explain many aspects of the keyboard, reading music, and music theory.
How it works: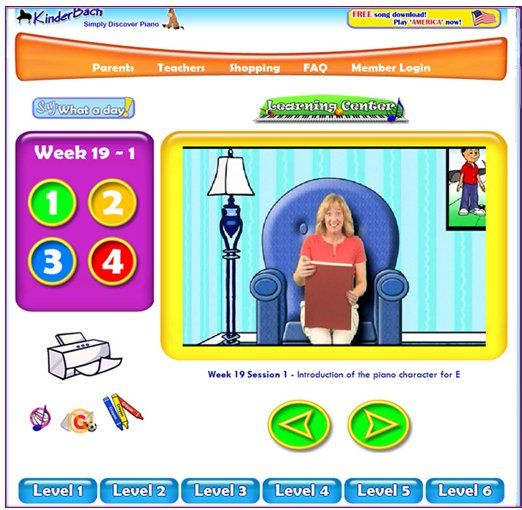 If you look to the right, you see a box with 4 numbers in it. Each of those is a separate lesson. They are designed to be watched every day for four days a week. But, since you have access to all weeks at the same time, you can choose how many to watch. The online lessons last between about 4 and 8 minutes.
You can also repeat lessons that your children enjoyed as many times as you want!!
The lessons start out very basic, introducing children to the keyboard, high-low pitch, the beat of songs, and more. They get progressively harder until the children have been introduced to reading basic sheet music, and basic music theory.
Below, the box, you see a picture of a printer. This will link you to many printables to go along with the lessons.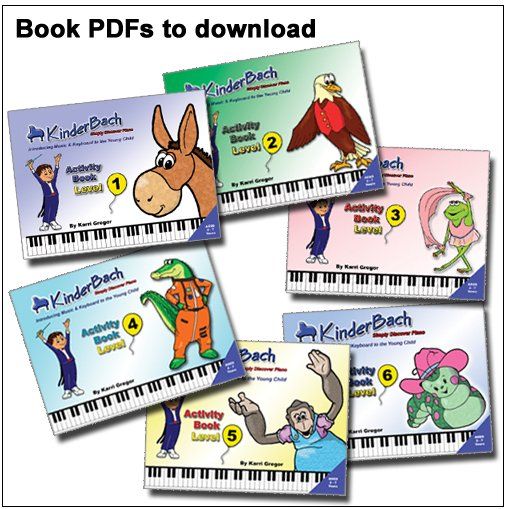 For each of the 6 levels of
KinderBach
, there is an activity book. The books are PDF downloads and you print them off as you need them, or all at once. You can choose the pages your children will benefit from. I found it useful to print off the books for my children, but if you were using this with only three year olds you wouldn't likely use them. The pages are very cute and have a lot of information. And, reading is not necessary as Karri explains the paper as you go through the session.
Some examples of the pages: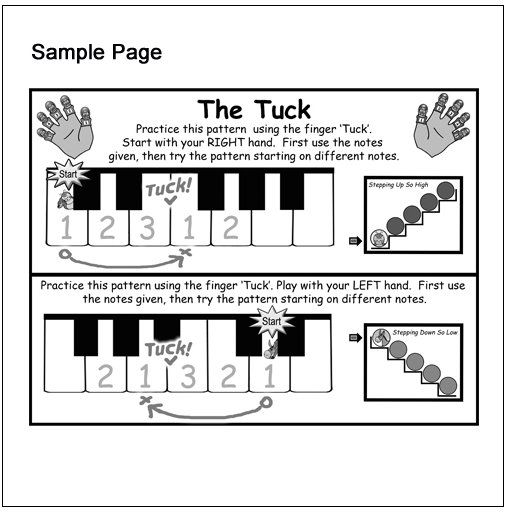 So what did we think:
This is our second time using KinderBach and I was surprised at the results.
Last time
, Mustang was so excited! She was always the first to ask if we could watch our lessons and wanted to play along with the games in the sessions. But, she turned 7 in September. And now, she is not nearly as interested. She still played along, but I had to encourage her. I was disappointed in this, because I thought she was finally old enough to understand the program this time around (instead of just dancing to the music). I had hoped she would take the program and really run with it, but that didn't happen.
So now, I'm not sure what I think. While I am very impressed at all the creativity and ideas that have gone into this program, and while KinderBach is a great way to introduce children to music and information, by the time they actually understand what's going on, they are no longer interested in the program and characters (at least in our house). That said, there is still a ton of great information. I would just be sure that you intend to spend time following up on this program as your children get bigger.
Charger and Mini Cooper enjoyed it a lot, and Explorer had a lovely time dancing to the music :). So I would certainly say KinderBach is a wonderful way to start your children out with a love of music and basic building blocks to help them as they learn music in the future.
I do want to mention how impressed I am at the streaming speed! We have many problems with streaming of other programs out here in the middle of nowhere, but we did not have any stops as the KinderBach videos came through!
How to Buy:
One of the best part of KinderBach is that you can
try it out for TWO weeks
for FREE!! That way you can find out it's a good fit for your family. If you find that it is,KinderBach at home can be
ordered
at $95.88 for a year or $19.99 a month (no added cost of gas to drive to a piano teacher's house, either!).
We are just one of 80 families who tried out KinderBach programs. Some even tried the new iPad app. To find out what everyone thought, checkout the
Schoolhouse Crew Blog
.
Disclaimer: I received a 6 month subscription to KinderBach in exchange for an honest review. All opinions expressed are my own.