Today there are so many places you can purchase books online. Most of them are focused on having the biggest and best selection so they can be your one stop shopping site. They pay no attention to the actual product, they just know that if the competition has it, they want it on their site, too.
But, imagine for a moment, an online store that has taken the time to seek out the very best in Christian books. A store that isn't interested in keeping up with the current trends and trying to be just like all the other online sites. An online store whose model is 'about reinvesting in our Christian lives through traditional Christian books that have been published for centuries.'
Well, this is a real place! The model is real, in fact, I copied it word for word from their website. This online store is called
Grace and Truth Books
!
If you have read my blog for awhile, you may know that I am always on the look out for new Bible time material to use with my children. It is the #1 most important subject in our school day and, because of that, I am always trying to find the very best for our study!
The description for With the Children on Sundays made me very interested in giving it a try: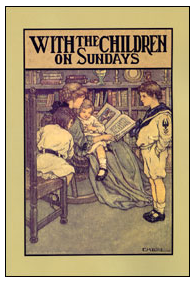 A giant volume, which ranks as one of history's greatest Family Worship books ever composed. A limited number of copies are available of this book, which has been out of print many decade and is currently not being printed by anyone. Filled with many of the most delightful family readings you'll find anywhere, from an author with great skill in presenting Bible truths in a form which grips the eye, holds the mind's attention, and wins the heart of a child for Christ. Many call this the finest book for family worship they have ever used.
Certainly sounded like a great match for a mom looking for Bible time lessons!
So what did we think?
When I first opened With the Children on Sundays, I was immediately pleased with the presentation of the book. It is a nice size and the print is over sized. The pages lay open nicely and the book fits well on my lap. This is important because the stories in With the Children on Sundays include object lessons and I need my hands free while I read!
Today's lesson was on the pull of the holy spirit in our lives and how Jesus draws us near to him. The story used magnets, nails, rusty nails, tacks, and paper.
The tacks were to represent children and how easily they come to Christ, the nails represented older children who still came to Christ but not quite as easily. The rusty nails represented old, rusty people, who were no longer attracted to Christ just as rusty nails can't be picked up by the magnet.
The second part of the lesson consisted of placing a paper between the magnet and nail (or a safety pin in our case). The magnet represents Jesus, and the pin represents us. The pin can not see the magnet, but the pull of the magnet allows the pin to stick to it, and can even move with it. Jesus guides us even though we can not see Him by continuing to draw us to Him.
After the story is read, there are about 8-10 comprehension questions that really help to make my children think about what they just heard. It also helps me to know what they did and did not hear and understand, so I can repeat a point of necessary.
Each of the lessons in the book are written in this same way. We have objects to learn from, explore, and then tie them in to our Christian walk. The children love these! Most of the objects are common household items. On the times when I didn't have one handy, we pretended and looked at the drawings in the book.
Because it is our most important subject of the day, I appreciate Bible lessons that also bring other learning into them. One day we learned about measuring, inches, yards, meters. Another day we learned about maps, charts, and boats. Still another, about how an apple grows from a flower into a fruit and how a worm can get stuck in the apple from when it is just a flower!
A few challenges:
With the Children on Sundays was published in 1893, so I can say that some of our terms have changed a bit. For example, one of the stories mentions that boys who want to go their own way may end up being a tramp. Well, it's been a long time since I've heard the word tramp-and even then it wasn't referring to boys!
Another example of the times having changed was the reference to how it wasn't acceptable to go to the theater. I know that used to be a common issue in churches that has changed. So I just reworded it and went on.
Assuming all the children had likely ridden on a steamship was a humorous part of one example that lead to talking about what a trip on a steamship would have been like. There are a handful of references like these, but I honestly found them to be refreshing.
There are also a few instances where the wordage used seemed to step on toes in ways that current churches try to avoid. For example, one story talked about children being allowed to run wild and not attend church as being neglected, and that they could not be expected to grow up to be Christians. As much as this is very true, if you were to use this book in a Bible club, you may want to be careful of reading it word for word. Our times have changed a bit, and the way we say things has as well. Using the older style of speaking could end up hurting more then helping. This was my opinion while I read, but it was just a few places and for the most part I welcomed the older writing as a unique way to look at a situation.
But we really like this one!!
With the Children on Sundays will certainly go onto my list of recommended Bible time materials-which, by the way, is a very SHORT list! It covers EVERYTHING on my want list for a Bible curriculum.
accurate
enjoyable
easy to understand
holds attention
challenging
not too much prep work
covers more subjects and offers additional learning opportunities
brings my children to Jesus
Overall, we are really enjoying With the Children on Sundays. The stories are written for children ages 4-10, but they are interesting to me as well as my children. I would recommend it to anyone looking for new Family Worship materials, or for Sunday School or Bible club teachers.
How to Buy:
Grace and Truth Books is currently offering free shipping on orders over $49-great for Christmas shopping!!
If With the Children on Sundays is any indication of the rest of the books offered by Grace and Truth, they will all be wonderful!! In fact, you can find out about a number of them by reading reviews on the
Schoolhouse Review Crew blog
. We received one of 10 different products to review, so there are plenty of different books to read about!
Thank you for stopping by and God Bless you!
Disclaimer: As a member of the Schoolhouse Review Crew, I received a copy of With the Children on Sundays in exchange for an honest review. All opinions expressed are my own.