Just recently I dug out a bunch of old books and genealogy papers and started going through them. While I was digging, I came across a book that I have had in my possession for a long time. It is a collection of short stories written by my Great-Grandmother. She wrote the stories about a year at her home and farm in 1937-1938.
Confession: I have had this book forever, and NEVER read them!! I don't know why, but I guess I didn't realize what I had!! As I started to read them I immediately realized that they deserved a place in our home learning.
We started this last week with Little Chick's First House which is an adorable little tail about a chick hatching from her egg. And, no, I won't be a tease. I decided to share the stories with you!!
I started a blog just for the stories:
A Year At Orchard Hill Farm.
And here is the story of
Little Chick's First House.
Go read it and then come back and see how we used it in our school day :).
I try to keep our extras to a minimum, and choose just a few good things to supplement our stories.
We found this book, The Life Cycle of a Chicken, by Robin Merritt at our local library and it was perfect! The photos were vivid and the information was just enough to fill in all the specifics of how a real chick hatches from an egg.
Mini Cooper and Charger cut and paste a life-cycle of a chicken work page that I found on
Have Fun Teaching.
We also found this DVD at our local library it is called
Our Feathered Friends
. It was absolutely perfect!! Completely filmed in person at a home chicken farm. Gives lots of information while keeping the interest of the children. LOVED it and so did I!
Now, you might like to take your lesson a little bit further. So, I've started a
Pinterest board
for this story. I will be adding more to the board as I find fun things you might like. Also, if you end up using this story in YOUR home, let me know and I'll add a link to your lesson to this page.
Thanks so much for stopping by and God Bless!
We're linked up!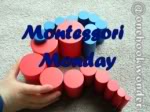 Home Schooling on the Cheap