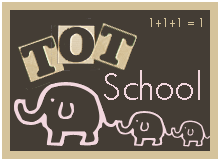 Mustang is 48 months, Charger is 22 months
First off, I put 'NEW' on my Tot School even though this is week 3, because I just now read the directions and realized I was supposed to put new by my name.
Second, we actually did much more at Tot School this week, but we are at the farm and my laptop runs much slower and I dont have time to upload all our pictures.
We did have a ton of fun! Here is the recap. Scroll down to previous posts to see more details.
Tubs of plastic letters
Alphabet Train Puzzle
Matching Letter Sounds
Clothespin transfer
Bean transfer
Shape Sort
Banana Cutting found
HERE
Chutes and Ladders
Melissa and Doug Farm Puzzle
For more great Tot School ideas check out
1+1+1=1