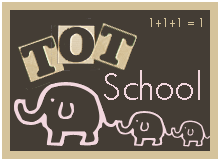 Charger is 23 months, Mustang is 48 months
We had another fun week! I finally got our bookself all set up for Tot School. I was quite pleased with how it looked. When I was getting together all the trays for the week, the kids were swarming me like it was Christmas. I had to go in my bedroom and close the door.
We did a few things with the letter B in mind, but I have a few more stil so we will continue it this next week.
B is for Butterfly
We used tissue paper that was in Mustang's birthday present. Cut it into 4 pieces and then used pipe cleaners for the body. It was very simple, but the kids loved flying their butterflies. Mustang almost got the pipe cleaner twisted herself.
B is for Bugs
This is the Bug Jug from Melissa and Doug. It can be found
HERE
. Charger had fun with this as always. When he pulled out the spider, I started singing Itsy Bitsy Spider and he loved it! We sang the song about oh 20 more times lol!
We read the B page in the book Alphabet House by Nancy Elizabeth Wallace. It doesnt have words, but everything in the picture starts with the letter B. In the back of the book, there is a list of everything to find in the picture. So, we found the B items and I had both Mustang and Charger try to say the words after me. Mustang has a speech impediment so this was helpful therapy for her and lots of new vocabulary for Charger. We only checked this book out, but I am adding it to my buy list.
A pom pom transfer game using our pumpkin ice cube tray, spoons, and pom poms. This was too easy for Mustang, I should have made her use tongs. But, it was really good for Charger.
We checked out a cool measuring tape from the library. I made a tray of stuff for Mustang to measure. She loved it and brought tons of other things, namely dolls and bears, to measure. Charger played with the things he was to measure and kept calling the measuring tape a clock :)
This cool tray idea I found on
Izzie, Mac & Me
. It, unfortunatly did not work well for us. I am going to have to rethink this for future use. I didnt want to seal the eggs because I wanted Mustang to be able to look inside. However, the first thing that Charger did was open his. And the result? Rice everywhere. Hmf. In case you have the non explorer types and would like to try this. I filled them with rice, oatmeal, beans, pennies, paperclips, and beads.
A couple more trays that I made for Mustang (more Preschool level then Tot School).
I got counting mats from
Childcareland.com
and she used corn from the farm as counters. We focused on 11-20.
For this tray I bought two large dice from the Dollar Tree. Mustang rolled the dice and then used them to write an equation. I got the numbers at the dollar tree too.
We read Richard Scary's Best Counting Book Ever (one of my absolute favorites)
And checked out a number pack from the library which included a Melissa and Doug number puzzle and a fun toy.
And last but not least...
B is for Beautiful Day to go feed the ducks. This was interesting. The first duck snatched a piece of bread out of Mustangs hand, biting her in the process. I had warned her, but apparently its just one of those things you have to learn. So, we left and came back. This time I put her on top of a bench so no duck could get her. Sadly, Charger slept the whole time as he had fallen asleep on the way there. He woke up just as we were leaving and we were out of bread. We did find some Kix on the floorboard of my van (see I knew there was a reason I hadnt cleaned it lol). We tossed them out the window and this satisfied Charger.
Truth be told, I am afraid of geese, so this was a bit nerve racking for me, but I survived.