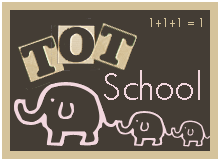 Charger is 26 months
This last week we finished up the letter F before heading out of town to visit Grandma and Grandpa for a few days. So, another short week, but lots of fun.
Some of our highlights:
Using our abundance of tractor magazines, I made a tractor cover all game. Charger was supposed to take the gems and place one on each tractor 1:1. All he did was take the gems and pour them out on the game board. He picked them up and dropped them over the board, threw a few on the floor, everything but what he was supposed to do with them. I do think he liked it, though.
I made him a file folder game where he had to match the color fish. He liked this very much and did a great job with it.
I made Charger these number puzzles from craft foam and stickers.
I presented them to him like this:
He did not understand what he was to do with them. Even after I explained it to him, he didnt get it. I think I confused him in the presentation. So, I put them away and tried later in the week. The second time, I put all the puzzles together and then took them apart and had him try. He did much better the second time.
A little Valentine's sorting. I found that even with the little hearts taped inside the big heart cups, I had to show Charger what I wanted him to do. I still give him a chance to do it without my direction, first.
Charger glued feathers to an F. Can you see the F under there? :)
We made this cute fishbowl craft inspired by
Homeschool Creations
.
Charger got to practice cutting. But, after he refused to hold the scissors even remotely how they should be held, he got to practice tearing paper.
He also practiced counting with fish that I made. He knows all his numbers, but doesnt know they go in any sort of order. We strung them onto the pipe cleaner in order, counting as we went a long. I plan to do this a lot more in the future.
We also read the book Flap Your Wings and Try by Charlotte Pomerantz. It is in a textbook I picked up for 10 cents this summer, I love yard sales :). Both Mustang and Charger enjoyed flying around the room.
Thank you for checking out our blog this week! To see what others did in Tot School this week check out
1+1+1=1
. God bless!