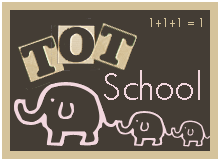 This is a little bit of a different post. I am behind on a few things and decided to do just one big wrap up post rather then two seperate posts. We do all our schooling together. I do put out seperate trays for each of my kids, but they are free to try each others trays. Mustang is required to finish her reading and writing before she can start trays, and eventually she will be reading to Charger. I also missed a number of pictures due to a dead battery, but I got most things.
Our letter this week was R, our sight word was Rock. Our phonics box this week had a rock, rattle, rolling pin, rhinosaurus, rabbit, and a ring. I didnt get a picture of it.
We read the book Race to the Finish from Dragon Tales. The Dragon Tales characters work together to race up rainbow mountain. It was a good fit for our R week.
We had our own race. We ran through the school room, through our tunnels and back again. It quickly turned into a recess for playing with the tunnels.
Then, we raced our wind up rabbit and chick. I got these at the Dollar Tree. This was great fun! They didnt walk in a straight line, so the race didnt work out, but we had a ton of fun letting them run around the kitchen.
We read Lots of Bots by Kiki Thorpe. It is from the Wall-E movie, but it was great! It is a rhyming book and has tons of onomatopeias as the sounds of robots are described. The pictures are fun, too. Highly recommended!
We also read Oliver Who Would Not Sleep! by Mara Bergman man. This book is about a boy who rides his rocket to the moon instead of sleeping. Very cute book! One of our new favorites. Afterwards, we made a rocket as part of our first stART project. I found the rocket craft idea on
Adventures of a Flake
.
We made fingerprint rainbows. I got this idea from Homeschool Creations. I helped Charger dip his thumb in the paints and then print on the rainbow lines. He did a great job of relaxing and not fighting me. Mustang quickly changed to fingerpainting, but it looked good too.
Charger colored R's with the rainbow crayons we made as part of our
Raising Rock Stars
lessons. Or at least he was supposed to. Instead he enjoyed lining them up.
Tot School trays-Charger is 27 months old
I gave Charger flashcards and foam shapes to match up shape and color. He was very good at this. Sorry for the terrible picture!
He played with his shape sorter. He loves this toy and asks to play with it often. He is great with the basic shapes, but he confuses the half circle and eclipse.
I gave him this tray to seperate the rabbits by color. He wanted NOTHING to do with it. He looked at it and said 'no thanks, Mom.' He did look at them with a magnifying glass later.
I got out our clothespins and sour cream container. Charger had a blast! At first, he put them on upside down. When I showed him how to put the clothespins on correctly, I didnt expect a change. I left the room and came back a little later to find him with all the clothespins on correctly. He was so excited he kept saying 'I did it, I did it.' I looked down and he said 'eight, Mom.' And there WHERE eight! He cant count to eight, but he knew there were eight.
While I was fixing dinner one night, I emptied an egg carton and he wanted it. I remembered how much I liked playing with them as a kid and handed it over. He loved hearing the squeak of the foam under his fingers and mashing in the egg slots (what do you call those?!).
Preschool Trays-Mustang is 4 years and 4 months old.
We continued with our Bob and Dod series from
Progressive Phonics
.. She does very well reading these. Mustang can also read the words The & And. She hates writing, though. She is getting much better at hearing the sounds in a word and actually spelled sun today when I asked her what letters she heard. I can tell we are getting close to real reading and its exciting!
At Cubbies she said 5 verses in 1 night-to my surprise-and got her first patch.
Mustang matched uppercase and lowercase letters on raindrops.
She built a felt rainbow.
I made her a basket of folding cloths-she didnt touch them.
And I had her measure ribbons, pipe cleaners and felt strips with these cool mats from
Walking by the Way
. Well I thought they were cool, but she only measured a couple before she said she was bored.
Trays for both kids:
I found these awesome lacing beads at the Dollar Tree! There are 2 1/2 packs here. Both Mustang and Charger enjoyed these a lot.
Sorting shapes. The bag holds foam circles and squares. They each sorted the shapes, Mustang used the blind-fold. Both did very well with this tray. Mustang tried to cheat, though.
Opening tray. There are two boxes, a jelly jar, a makeup bottle, a makeup compact, and a jewlery box. Charger was only able to open the boxes, Mustang could open the jelly jar and makeup bottle, but couldnt close them. They both needed help with the the makeup compact, but it held their attention as they tried many times.
Sorting rocks. Both Mustang and Charger liked this one. Charger loved the magnifying glass that I included on the tray.
Bingo markers on a rainbow. Charger only did a few of them. Mustang did the whole rainbow. The rainbow is from
Making Learning Fun
.
Sequencing Rabbits. Mustang really liked this one, Charger wouldnt touch it. I found this one on
Childcareland
.
And our sensory buckets:
Rocks & Rainbows
Life School
We dedicated Mini Cooper on Saturday. We went up as a family and stood before our congregation to let the Lord, family, and church know that we wanted to raise Mini and all of our children in the ways of the Lord and under the guidence of His word. Even if we teach them nothing else, it is our prayer that we will teach our children the fear of God and His amazing love and forgiveness.
I hope you enjoyed reading about our week! We will be taking the week off, but will be back in 2 weeks with the letter I. To check out what others are doing in their schools, check out
Tot School
for ages 1-3 and
Preschool Corner
for ages 3-5. God Bless!