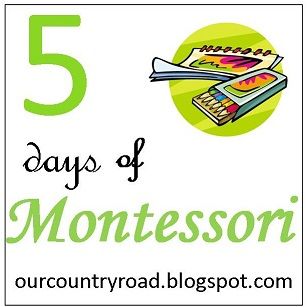 This week, I'm blogging about how to bring the Montessori Method into your home. You can read my list of topics in my
intro post
.
Since you are a blog reader (I figured this since you are currently reading a blog), you have likely read a few (or a hundred) blogs about families that use the Montessori Method in their home. You have read about their unique lessons, beautiful materials, and observed their thoughtfully planned environment. You like what you see and want to use this method in your homeschool, too. But, you're a newbie homeschooler and so confused right now anyways, you have no idea how to start with a workbook let alone an entire learning method. Let me tell you, you are not alone.
In fact, you are likely one of the many moms who I have recently spoken to in person! And, I was once just like you. You know what I did? I threw my hands up and started using a workbook curriculum. Yes, I did. Are my kids hurt for it? No. But, I wish I could have started with the Montessori Method at the beginning. Hopefully, some of my tips in the next 5 days will help you to start from the beginning.
First of all, understanding the Montessori Method is the cornerstone to making it work in your home. The Montessori Method is named for Dr. Maria Montessori (yes, I know you knew that). She was from Italy (again, you knew that) and she attended the University of Rome where she was not well accepted because she was a woman. I am not going to go into all the details of her early days, because you can read them on
Wikipedia
or any number of other websites.
She began working with children in a mental institution, where she found that, if given the right materials, all children can learn. In fact, they can learn many things that adults didn't seem possible. In her work she refers to children as having an 'absorbant mind' (the title of her book) she explains that children can, and do, learn at an amazing speed from birth to about age 7. We should use this time to allow our children to learn all they are able since it is very easy for them during this period of their life.
The very best introduction to the Montessori Method, and Dr Montessori herself is given in a lecture from Margaret Homfray. Ms. Homfray was first a student of Dr. Montessori's and later a friend and collegue. She gave lectures to students at the AMI training center (I believe) and they were recorded for all of us to see. It is her set of lectures that taught me the most. I strongly recommend you take the time to watch this and all of her lectures as you begin your journey.
In a homeschool environment, the Montessori Method is different then some other homeschool styles. However, I feel it is one of the most perfect methods to use in a home environment. Probably the number one reason I have heard that families have kept their children home is because they want to give their child the 'best education for THEM.' In other words, they don't want their child to get lost in the shuffle of a 'one size fits most' kind of education. Especially if they feel that their child doesn't fit into the 'most' catergory. They want to tailor the learning style to their child rather then the other way around.
So, we try out this curriculum and that curriculum and we switch after 3 months because it doesn't work or our child is bored. Then, kid number 2 comes along and is NOTHING LIKE kid number one and we start to pull our hair out. Been there???
The Montessori Method has a very different approach. It treats all children as unique individuals, capable of learning both easy and difficult tasks and concepts without the blood, sweat, and tears of book learning. The children are presented with various materials and allowed to explore them visually, mentally, and sensorially. They can look, touch, build, smell, listen, compare, and contrast. Then, they have the freedom to repeat until they feel ready to move on to the next task. Likewise, they have the freedom to leave the material behind and never touch it again if they feel they have it mastered. Each child gets to move at their own pace, taking time to work on the things that interest him.
I won't lie. The Montessori Method does require some work for mom. One must first learn about the materials to be able to present them. There will be lots of books to read, blogs to observe, videos to watch and questions to answer. Some find that a training course is the best way for them. There are online courses available, if that is the direction you choose. Others choose to use the MANY online resources to help their journey. I will give you a bit of encouragement here, though. Most moms who have chosen the Montessori Method are very interested in learning about it. The research, though time consuming, ends up to be a lot of fun for Mom.
The Montessori Method breaks learning down into 5 different areas or subjects: Mathematics, Language, Sensorial, Practical Life, and Culture. Mathematics and Language are self explanatory :).
Sensorial is the discovery of things via the senses. Materials of different size, shape, color, smell, texture, weight and taste are given to students to discover. These discoveries allow them to understand better the world around them and it's relationship to them.
Practical Life is the learning the care of ones self, their environment, and how to serve others. It is one of the highlights of the Montessori Method in my opinion. Students learn everything from how to wash their hands to how to serve food to another.
Culture includes everything else :). Zoology, Botany, Geography, and Social Studies. Our world and everything in it is discovered in this area of learning.
The Montessori Method is a great learning style for homeschools with multiple aged children. Mom sets up the classroom, and all of the children age 2 1/2 and older can benefit from the materials on the shelves. Montessori schools were designed to combine multiple ages and learning levels. This allows children to learn alone or with a friend from time to time. At home, this allows for learning with a brother or sister.
I could type for hours and hours, but I'll leave you there for now. Tomorrow, we will talk about preparing your environment for the Montessori Method. I hope you'll join me!
I'm not the only one blogging all week. Check out the crew blog to see the many great topics being covered this week!
God Bless!