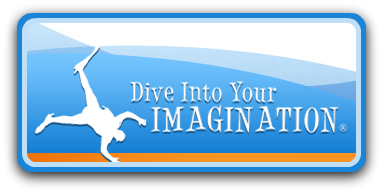 Even though the calendar disagrees, it has been summer here for over a month. The hot sunny days have certainly been making us wish that a trip to the ocean was on our list of to dos this summer! Unfortunately, it's not going to happen this year. But, we have been enjoying the next best thing. The ocean has come to us!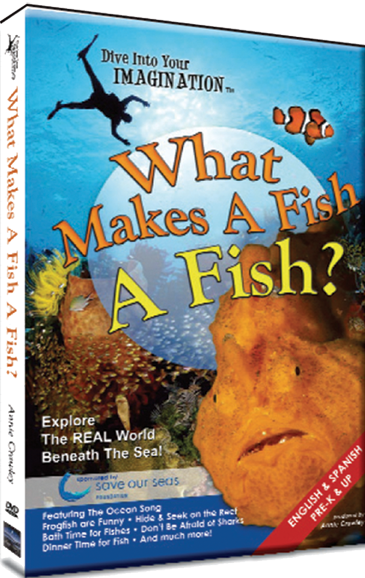 Dive Into Your Imagination was founded by Annie Crawley. Ms. Crawley, also known as Ocean Annie, grew up in Chicago and followed her dreams to become an underwater videographer, author, photographer, award winning youth speaker, and a producer. I really enjoyed reading all about Ocean Annie's exciting adventures in her
biography
.
What Makes A Fish A Fish?
is one of three DVD's in the Dive Into Your Imagination series. It teaches children about astounding fish from around the world. It contains 8 different segments including:
*Frogfish are Funny
*Hide & Seek on the Reef
*Bath Time for Fishes
*Don't be Afraid of Sharks
*Dinner Time for Fish
and more!
The DVD run time is 37 minutes, so each segment is pretty short but not too short.
So what did we think?
We really enjoyed this DVD! The pictures are BEAUTIFUL!! They are extremely high quality and very well done. I felt like not only had the ocean come to me, but also a science center or aquarium, it is that good. Ocean Annie kept the attention of myself and all four children with her enjoyable information and amazing video. The information included is wonderful. Even I learned new things and saw many new fish.
And, not only are the DVD's great, but there are also teacher's guides to go with each DVD. The teacher's guides are awesome! The guides are almost 300 pages in length and are FILLED with great ideas on how to bring the DVD's to life. There are complete lesson plans and printable packs for every single chapter in the movie! The teacher guides come in either grades Pre-K through K or 1st-3rd.
The Teacher Guides include art and craft ideas, math, literature, writing, and spelling activities. Combine the DVD and Teacher's pack and you have your entire summer curriculum!
The Teacher Guides
are available in a print edition for $299.00, or PDF for $69.95. But, if you are a homeschool parent, when you order a DVD, Ocean Annie with include the PDF for FREE! This is for a short time, though I'm not exactly sure how long. So, if you are at all interested this would be the time to order! When you do, write that you are a homeschool parent in the memo so that you can get your guide.
For the entire months of May and June, shipping is also FREE, so be sure to take advantage of these generous offers on the
Dive Into Your Imagination
DVD's.
I really can't say enough great things about the Dive Into Your Imagination DVD's and fabulous Educator Guide. They have made learning about the ocean a lot more fun at our house this summer! But, don't just take my word for it, check out this sample chapter, Frog Fish:
You can also read what my fellow crew mates had to say about Dive Into Imagination by checking out the
TOS Review Crew Blog.
Thanks for stopping, er swimming, by and God Bless!!
Disclaimer: As part of the TOS Review Crew I received a free copy of What Makes A Fish A Fish? DVD and a PDF download of the Educator Guides in exchange for an honest review. I was not required to write a positive review. All opinions expressed are my own. I was not paid for my review.