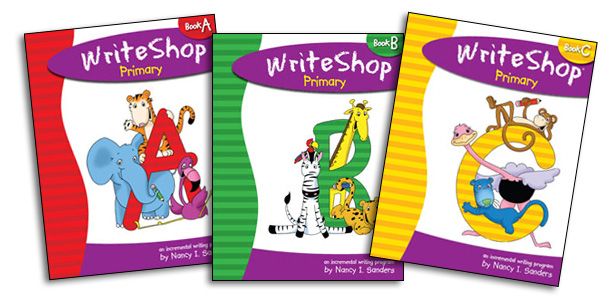 About a month ago I was sent a new writing product to try with Mustang. It is called
WriteShop Primary
. We were sent
book B
.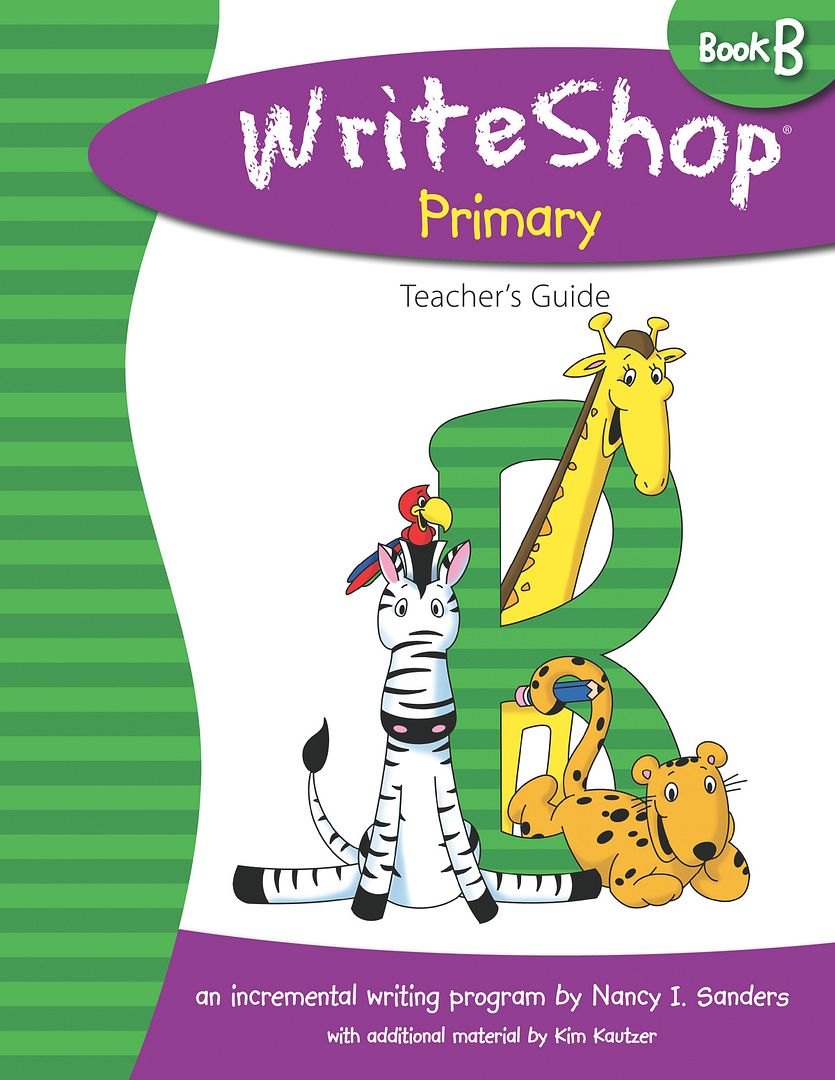 What is WriteShop Primary??
"WriteShop Primary teaches the skills of the writing process at the very simplest level through activities, crafts, and picture books. It accommodates pre-writers as well as beginning and developing writers, so your youngest needs no previous reading or writing experience. Slowly and gently, the child is asked to help with the actual writing, first in simple words and later, through copywork. And by turning these stores into a little craft, he will have a project to proudly share with others." Taken from the WriteShop website.
Each
WriteShop
lesson has 8 activities to be broken up into 1, 2, or 3 weeks of lesson plans, depending on how you do your schooling. There are additional activities for each lesson plan if you would choose.
The lesson plans are clearly laid out and easy to follow. The books are beautiful and fun to look at. I also found the actual lessons to be easy to teach. I did run into one catch, however. I looked over the WriteShop Primary list of
how to choose a book for your child
. It seemed to me that Mustang could do the work in book A or book B from what I read on the list. Being able to do things like read and write color words made me feel that it was for students below Mustang's ability level.
Here is a sample of lesson 2: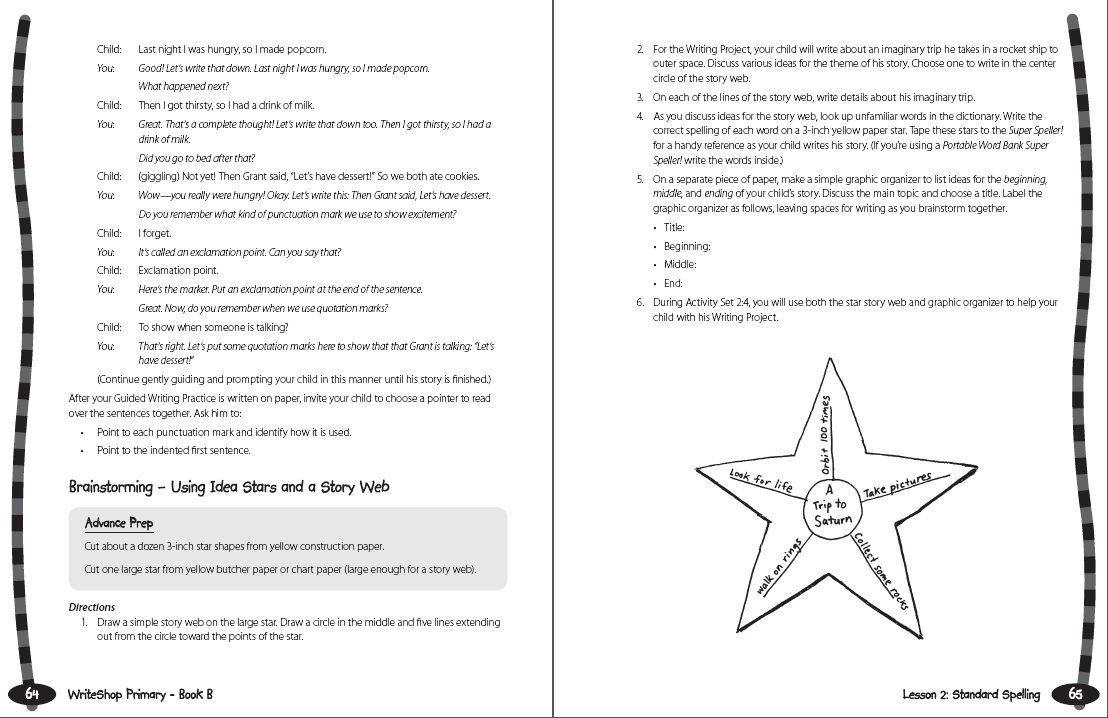 To me, this lesson seemed far above what was described for book A. I thought maybe we could muddle through for this review and at least do lesson one. But, as I went through, it became very obvious that she was not.there.yet! In addition, starting from the beginning, the book refers to a teaching aid that was made in book A. The aid sounded great, and it gave instructions on how to make the aid if you didn't do book A. However, I felt like if we did all the work from book A without the lessons to go with it that Mustang may not get the full benefit of the teaching aid. Add that to the fact that I didn't feel like she was really ready for this work and I felt very stuck.
I really liked the layout of the material and it seemed to be perfect for my teaching style, Book B was just too hard!
Sooo, I went ahead and
purchased
book A
! I am sooo glad I did!
First of all, I needed the product ASAP and decided to purchase the e-Book of Book A. So, I was able to see the differences between the e-book and the physical book. I much prefer the e-Book. The physical book is spiral bound and REALLY nice, but the e-Book is the best e-Book I've ever downloaded. It's compressed in a way that you only view one chapter at a time, which is so nice if you do like to print out a lesson at a time. You can't accidentally print out the whole book (which I have done on accident in the past), and you don't have to keep together all the loose pages in the student activity pack.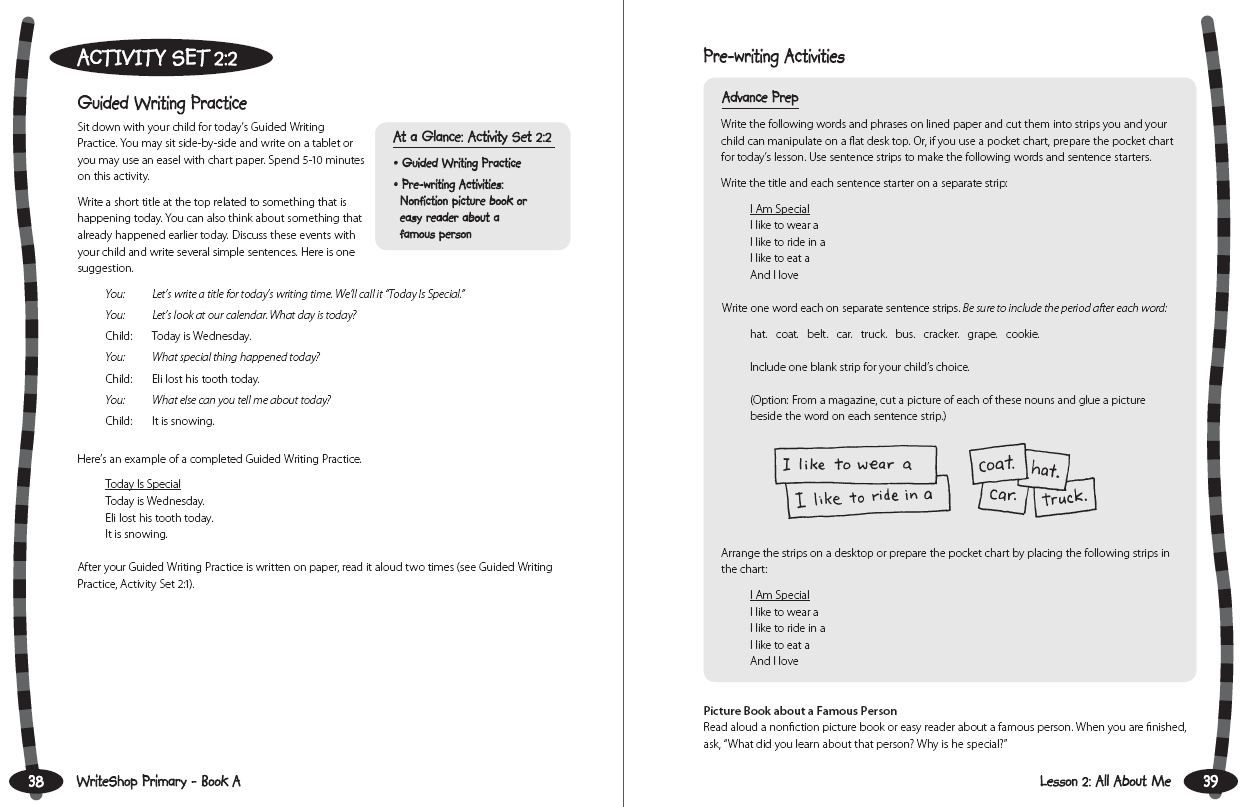 The lessons in book A are MUCH easier then book B. It starts off where I am doing the writing instead of Mustang, but this is a great way for her to watch me write. Sometimes, if there is too much writing involved she gets discouraged. The lessons allow her to start learning how to write creatively and develop sentences without the frustrations of letter forming.
There is a lot of picture drawing involved, which is something she really enjoys. The very first story we wrote she wanted to illustrate. The lesson plans don't ask her to do it until story four, but she just got a head start :). The lessons themselves are a lot of fun! They have a nice little script so I don't have to worry about messing up my lesson, which I like. And, Mustang seems to be enjoying them as well.
I would recommend them, but I would start with
book A
in most cases. I did find out that I had missed an additional
placement chart
that I think is a better way to determine level then the bullet point list.
The cost for each book starts at $24.25 and goes up depending on which book you buy. There is also a student packet (which is reproducible) that starts at $4.50. You can buy all the books from Elementary through High School on the
WriteShop
website. Through June 15, 2012, WriteShop is offering a 15% off discount for the review crew's blog readers. Use CREW15 at check out to receive your discount.
Many of my fellow crew mates also reviewed the WriteShop Books A, B, or C. Check out the
crew blog
to see what they had to say.
God Bless!
Disclaimer: We were sent a free copy of Primary Book B in exchange for an honest review. And we purchased Primary Book A because we wanted to! All opinions expressed are my own and I was not required to write a positive review.