Hi, I'm Lisa and I have a problem. I have an addiction to buying books. I think it comes with the territory of homeschooling, but used book sales are one of my favorite places in the world. A whole room just full of interesting texts, beautiful pictures, and stories of history. I could bring them all home. There is just one BIG problem.
You see, my husband was on to me and my book buying addiction. So, he staged an intervention. He informed me that the two bookshelves in our living room were MORE then enough room to store all the books I would need to own. Then he handed me a Kindle and told me I can use it to store all the books I wanted.
I was thrilled to own a Kindle Fire, but I have another confession. I am NOT technologically inclined at all. Seriously. I have to ask my 6 year old to turn on various electronic gadgets for me. She can hook up a DVD player, VCR, media player and more. Me? I'm lucky to find the on button.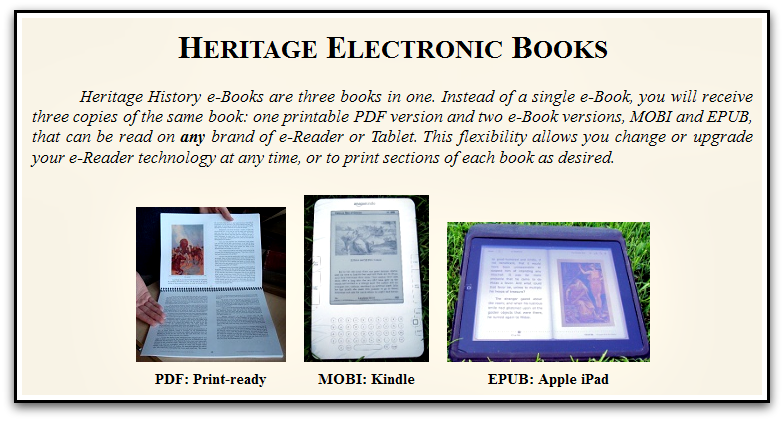 The books are all historical books that are now copyright free. Heritage History has compiled them and reformatted them into PDF, EPUB and Mobi files, giving you the option of viewing them on a Kindle, IPad, Computer, or printed document. The CD contains a GREAT tutorial on how to move the books from your computer to your e-Reader, hence the techie sounding explanation from me. I didn't know what a Mobi was before! I even got the privilege of telling my techie husband!
The books that
Heritage History
chose to put into the Young Reader's collection are wonderful! I like books, but there are so many that I have never read or even heard of. Many of the stories in this collection are new to me.
Some of my favorites include:
Stories of Great Americans for Little Americans, Edward Eggleston
Stories of the Pilgrims, Pumphrey
American History Stories Volumes I, II, III, IV, by Mara Pratt
And a whole series of Twins stories from Lucy F Perkins. We are currently reading Dutch Twins and the kids love it! I think it's a cute story, too!
You can view the entire list of stories
here.
(Scroll down past the list of CD volumes)
The Heritage History CD's are compiled to be used as a history curriculum. Each disk includes a Teacher's Guide and recommendations on how to use the curriculum to get the most out of it for your child.
My children are just a little young to read these stories on their own, but I am excited to have such a rich library of texts to read from. We read each night before bed, and I know that these stories will keep us busy for a LOOONG time.
Now, I mentioned that the stories on the
Heritage History disks
are historical texts. All of which are copyright free. I mentioned this to my husband and he wanted to know why one would pay money for this product, then? I wondered the same thing! So, I began looking for other sources of the texts online.
First, I used the story we are currently reading, Dutch Twins, as my guinea pig. I could find it for free on the Amazon website, ready for Kindle Download. However, it did not have pictures! And, with three little ones reading with me, pictures are VERY important!! Next, I tried the American History Stories by Mary Pratt. I was able to find it, too for $1.99 each volume. Nearly $8.00 if you purchase just the 4 books in that series. I didn't go through all the stories, but if even half of them cost, you would save a lot of money to buy the CD collection.
You can, however, read all the stories on the
Heritage History
website at no cost. I found that with our Kindle e-Reader it is best to download and transfer. But, the Kindle Fire is setup so that the web-site versions are much easier to read then the actual download. That only works if we are home with the internet connection. If we are traveling I won't be able to read the web-site unless we are stopped somewhere with a Wi-Fi. The CD has the added bonus of being able to print out any portion of the text should you have need to do so. My only real complaint is that you can't
download
your digital purchase. Otherwise, I think it's great!
The
Heritage History
web-site is chock-full of wonderful information to use along with your learning. Be sure to check it out and see if an order is in your future :)
Many of my fellow crew mates also reviewed a Heritage History collection. Check out the
crew blog
to read what they had to say!
Thanks for reading and God Bless!
Disclaimer: I received a copy of Heritage History Young Reader's CD at no cost in exchange for an honest review. I was not required to write a postive review, all opinions expressed are my own.