Over the last couple of weeks, my children have had the opportunity to practice their math skills on the computer using,
IXL
We use the Montessori Method to learn our math skills, but I appreciate having different ways to see those skills put into practice. Sometimes, just because you can use manipulative's doesn't always mean that you understand what you learned.
IXL (Which is pronounced I Excel) is an online math practice site for grades Pre-K all the way up to Algebra. IXL is broken down into grade levels, and then further broken down into skills for that level. Children answer questions to see if they have mastered a skill. If they can answer a series of questions on any one skill, they will receive rewards and certificates.
We have been testing out the Pre-K (Charger) and First Grade (Mustang).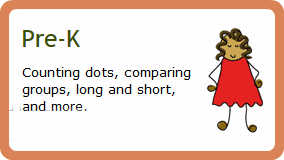 One of the Pre-K skills is counting 0-3. A sample problem might read 'How many dots are there?' with 2 dots below the question. Reading is not required because, next to the question is a little button that can be pushed. Once pushed, the program will read the question to your child! After entering the number 2 in the box, the child would push submit.
On the right hand side, there are 3 stickies. The first says problems attempted, the second-time elapsed, and the third-SmartScore out of 100.
Once the student reaches 100, the skill is passed and IXL will take them to a page that congratulates them for completing a skill. At that time, they will receive an 'award,' which is a graphic on their checkerboard. Believe it or not, my children are VERY eager, to win these awards and see what they get next!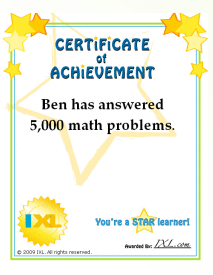 You can also print out paper certificates that show their progress.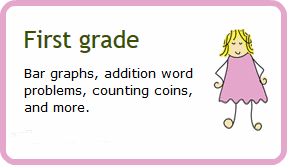 First grade is basically the same set up and format. Skills include Addition, Counting and number patterns, Geometry, Measurement, and Money.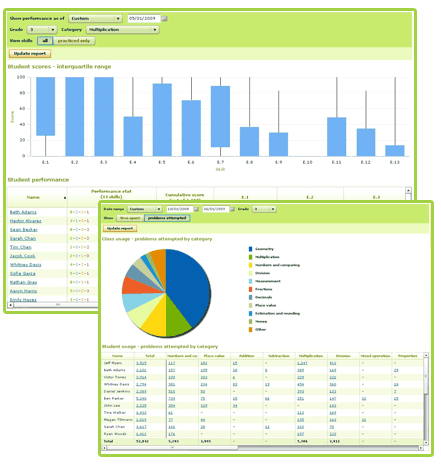 At anytime, mom or dad can log on to see how the kids are doing. There are detailed reports that show what your child has practiced, how long they worked for, and how well they did. This gives you an idea of what your child knows and what they need to work on.

IXL membership
starts at just $9.95/month or $79.00/year for a homeschool child. Additional children are $2.00/month or $20.00/year for each child. So that's a little over $6.50/month if you signed up for a year, very affordable!
So what did we think?
Well, first of all it is very much a learning site and not a game playing site. There are no little games or music or funny characters to mask that learning is going on. Because of this, I did usually receive groans when I requested that my children worked on IXL.
However, once they were working, they enjoyed themselves. They were very excited to tell me when they completed a skill and won an award! They also compared what award they received with their sibling's. They are currently in a competition to see who can get the most awards.
I REALLY liked the progress charts! It is so fun to log on and see that Mustang and Charger have been working and succeeding at their math skills! It also made me realize what things Mustang doesn't know so I can try and focus on those at other times.
Another thing to keep in mind is that this is not a teaching site, it's a practice site. If your child gets an answer wrong, they can choose to see a little explanation as to what the correct answer is. But, they aren't going to receive a lesson on how to do the problem right next time. This is both a pro and a con for us. I really want to use the Montessori Materials to help my children grasp a concept, so I usually avoid web games that are the teachers. However, the hard part in this situation is that if one of my children really wants to understand a concept RIGHT NOW so that they can get an award, there isn't a way for them to do that.
Overall, I think that
IXL
is a good site and offers a great product for the price. You can try up to 20 questions a day for free, so head on over and check out
IXL
. Or check out the many other reviews from my crew mates at the
Schoolhouse Review Crew Blog.
Happy Learning and God Bless!
Disclaimer: As a member of the Schoolhouse Review Crew, I received a 6 month subscription in exchange for an honest review. I was not required to write a positive review, and all opinions expressed are my own.