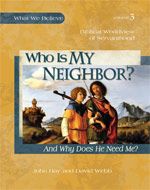 As part of our new school year, we have brought back Bible time. Each morning, the kids and I spend about 1/2 hour together reading from the Bible, Bible study, or a Bible devotional book. It was the perfect place to plug in
Who is MY Neighbor? (And Why Does He Need Me?)
from Apologia Press.
Who is My Neighbor? I the third book in the four volume series
What We Believe
. The What We Believe series is a Biblical Worldview course designed to help students understand what we believe as Christians and why we believe it.
The four volumes in this set include:
Volume 1
Biblical Worldview of God and Truth
Volume 2
Biblical Worldview of Self-Image
Volume 3
Biblical Worldview of Servanthood
Volume 4
Biblical Worldview of Stewardship
The What We Believe series is designed for children ages 6-14. They are written at about at 5th/6th grade reading level, so it is a read aloud curriculum for younger students.
The beautiful hardback textbook for Who is My Neighbor includes 8 lessons that are each designed to take between 2 and 4 weeks to complete. The lessons are designed to be child or family led, with plenty of easy places to stop and pick back up the next day.
Each lesson includes:
*A Bible Memory Verse
*A short story
*Words to know vocabulary
*Encounters with Jesus story
*Character development passages
*plenty of discussion questions, going deeper articles, and think about it challenges
Notebooking and coloring books are available to help make the most out of your child's learning experience.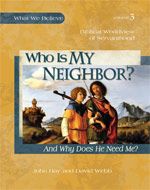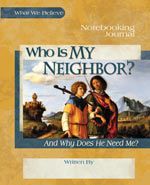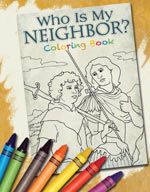 What Did We Think??
Let me tell you!! Apologia has hit a HOME RUN! on Who is My Neighbor? This curriculum is thorough, thought provoking, challenging, entertaining, easy to use, and informative!
Each of the lessons has a short story, the first 2 (that's all the farther we have gotten) are about a family from China. We have enjoyed learning a little about China and other types of government. The short stories were certainly their favorite part. The character development passages and going deeper articles, though very well written, were a little advanced for them.
We have been using Who is My Neighbor? every school day for the last three weeks (12 days) and we just began chapter two this week. I spread it out a bit due to short attention spans. I love that I can just shut the book and start again the next day. Each part of the lesson is so full that reading just a couple pages will leave you with plenty of information for the day.
As much as I absolutely love Who is My Neighbor? and as much as it certainly CAN be used for a 6 year old, if I were purchasing this for just one student, I'd recommend about age 10 or older.
If you have a large family and are trying to find something to teach everyone at once, this is it!
It is the perfect family Bible time curriculum IMO. It is designed for ages 6-14, but my crew is 0, 2, 4, and 6. Granted, my 0 and 2 year old didn't get much out of it, but my 4 and 6 year old did. Some of the writing was over their head, but it spoke to me. I loved being able to have additional devotions for myself while spending time with my children. They loved reading with me and coloring the pictures.
Overall, this is a great set and I would highly recommend it. If you would like to read more about the Apologia What We Believe series, check out this
FAQ.
You can try a sample less on Who is My Neighbor?
here
. Or, you can read the MANY reviews from my fellow crew mates on the
Schoolhouse Review Crew Blog
.
Disclaimer: As a member of the Schoolhouse Review Crew, I received a free copy of Who is My Neighbor? book, notebook, and coloring book in exchange for an honest review. I was not required to write a positive review and I was not paid for my review. All opinions expressed are my own.