Yes, I review for them, and yes, they gave me a free membership, but no, I don't have to tell you all the good things about SchoolhouseTeachers.com. I want to tell you all the good things about SchoolhouseTeachers.com!
SchoolhouseTeachers.com is a labor of love developed by the Old Schoolhouse Magazine. They have brought together some of the most amazing homeschool helps all into one place.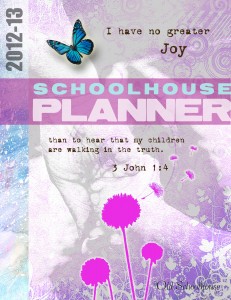 First, are the Schoolhouse Planners. All five planners are included in your subscription and they are amazing!! I have been using them to plan our school year. Any form you can think of and many that you can't are included in the planners. You can save them in a file or print them off to reference as you need them.
My second favorite feature are the schoolhouse dailies. Daily Grammar, Daily Math, Daily Writing, Everyday Easels, Everyday Explorers and more. Every day, talented writers that are specialists in their field provide short lessons that you can use with your students! There are a wide range of subjects and grade levels to choose from.

A monthly lapbooking lesson plan and printables are provided each month. You can also access previous months files. Topics have included photography, travel, summer, and this months is about squirrels. One month was Raphael which I am planning to use for an artist study later this year. It's so cool!!
If not, maybe having The Old Schoolhouse Magazine delivered straight to your inbox will? Yep, it's included with your subscription! So are all the digital back issues-fully searchable!
Each month, a new set of e-Books is available for download. After just thirty-one days of membership you can download up to 12 e-Books including titles from the Curiosity Files, the Wanna Grow-Up series, and We-E series (I think these are subject to change, but that's what is included in this month's offerings). And, after 12 months of uninterrupted service, you will receive a $25.00 gift certificate to the "Totally TOS" section of the Schoolhouse store.
And if those weren't enough, there are monthly menus, TOS Expo to Go recorded sessions, advise for Special Needs families, helps for families with struggling learners, helps for High School students, music lessons, This Day in History, monthly reading list, I could go on and on! Check out the
Site Features
and
Sample Pages
to see more.
The cost to subscribe to
SchoolhouseTeachers.com
is just $5.95 a month. Most, if not all, of the benefits would cost that much alone, but you get it all for one price. Your first month is only $1.00!
I'm pretty sure you can tell that I really like SchoolhouseTeachers.com, but this is a review so I'll share my two negatives. 1. I hate auto billing. I think it's worth it in this case, but that's always my motto. If I didn't say it here you would think this review was rigged. 2. I wish it had a forum. Though if it had a forum I would spend all my time there and miss some of the extra features, so maybe it's a blessing in disguise. But, I still wish there was a forum.
To read what my other crew mates thought of SchoolhouseTeachers.com, check out the
crew blog
.
Thanks for stopping by and God Bless!