The last few weeks at our house have been crazy. We had VBS last week, a fair over the weekend, family reunion, and then a house organization project. It's fair to say that we haven't had a lot of formal school lately. But, we have still been learning! One thing that we have had the opportunity to try out during our busy Summer is
This Week in History
from
Thomas Jefferson Education.

This Week in History
is a very simple idea. Each week, you and your child received an email. The email is FULL of things that happened this week in history :). But, what's in the email is anything but simple. It includes photos, quotes, links, and just enough information about each person, place, or event to spark curiosity. Your child can then use the links to further explore. There are even creative writing and art ideas to challenge the student to think more about the subject.
Thomas Jefferson Education
's This Week in History costs just
$9.99 a month
. With your subscription, you can access previous weeks. The weeks are fully searchable by date, topic, and key words. You can view
samples
of This Week in History on the Thomas Jefferson Education website. They offer many other books, e-books, and audio downloads to use with your home learning.
So what did we think of This Week in History?
Let me tell you, This Week in History is every bit as cool as it sounds. The authors, Oliver and Rachel DeMille have made TWIH their labor of love and it shows. The topics covered in the TWIH emails are interesting, informative, and useful. The amount of information covered is just enough to interest both young and old. I love that I can just let Mustang explore the email until her heart is content, and know that she is learning.
I love that they provide just enough information to make TWIH interesting, yet just enough to make you want to click on the links and read more. It's a great extension in a Montessori classroom!
The emails are easy to read, easy to follow, and well put together. This makes them worth the money! I realize that you could search the Internet and put together units of your own for your children, but it's so nice to have things done for you! Especially, if they are done well.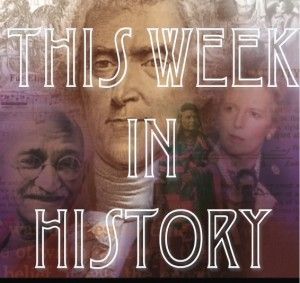 I highly recommend checking out the
samples
of
This Week in History
and consider adding it to your home learning. You can also read what my fellow crew mates had to say on the
crew blog
.
Thanks for stopping by and God Bless!!
Disclaimer: As part of the Schoolhouse Review Crew, I received a complementary subscription to TWIH in exchange for an honest review. I was not required to write a positive review. I was not paid for my review. All opinions expressed are my own.