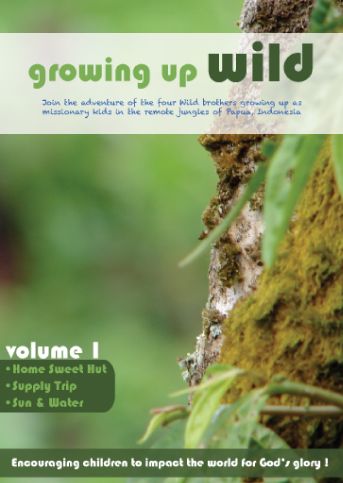 With all the many wonderful review products I have been sent over the last 2 years on the Schoolhouse Review crew, I have never been more excited and honored to bring you a product then I am today!!
Many countless times, I have come across this question on homeschooling moms' message boards and Facebook pages:
"Does anyone know a good curriculum to teach about missions and missionaries?"
Everyone does their best to answer the question, but the fact is that we have always come up short due to a lack of a good curriculum to fit that need. But, I am sooooo excited to tell you about a product that not only fills the need, but exceeds it in every possible way.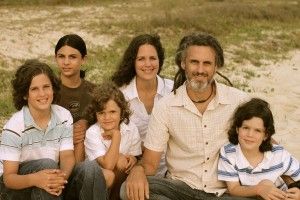 Let me introduce you to the
Wild Family
. The Wild Family are missionaries with
New Tribes Mission
. Mike, Elizabeth, Asher, Kion, Morgan, and Hudson Wild live in the Wano Valley and minister to the Wano people in Papua, Indonesia.
The Wano people were an unreached people group before NTM and the Wild Family went to the Wano Valley. The language of the Wano people was unknown, and so the Wild Family had to learn their language and then write it down. After they translated the Wano peoples' language, they were able to present the message of the Gospel with the Wano people.
The Wild family also homeschool their children, and I suspect at one time or another, they saw the same question I did. But, they were in the unique situation to offer a solution to this question. And answer they have!!!

Growing Up Wild
follows the day to day adventures of the four Wild brothers as they live, play, learn, and spread the love of Christ with their family in the Papua Highlands. Their life there is very different from the one that most American children live, and children are drawn in right away to see what happens!
Growing Up Wild
is a DVD series that currently has 5 volumes. Each volume has three 15 minute episodes that highlight a different aspect of growing up as a missionary kid in the jungle. The DVD's also come with an activity guide that contain ways to take the episodes further in your learning. It is always nice to have a homeschooling family write the curriculum, because they know how nice it is to have a CD-rom with the printables all ready to go!
The Wild Brothers and Our Country Kids:
We received copies of volumes 1 and 4 for review. The first episode of the first volume is called 'Home Sweet Hut.' This episode takes you on a tour of the Wild Family home in Wano. It certainly sets the stage to let you know that things in Wano are quite different then those here in the States!
The Wild family lives in a ROUND house! Made of local building materials, with local builders-and themselves. Talk about green ;). Their furniture is all made locally with wood from trees in the area, and it locks with a string and stick lock.
But, the similarities to an American house are still there. The boys sleep in bunk beds, mom has a washing machine for their clothes, and there's even a LEGO LOFT that is currently the envy of my son!
One of the activities afterwards is to make your own Wano house. We watched the episode a number of times to help us get a true feeling for how the house is built and what materials we had on hand to build one.
This is our group house made from an oatmeal container, bendi-stix, and soybean stubble.
Then, each child made their own. Charger felt that since the Wild house has a lego loft, that the house should be made out of legos. He didn't seem to care that it wasn't at all round.
Apparently Bob and the gang didn't care either :).
Mustang's house used the other half of the oatmeal box, and she decided that a flat roof was much easier then a gabled one. Excuse the no smile. She specifically wanted to have a photo with no smile.
Another suggested activity was to create a Venn-Diagram to compare and contrast the Wild Brother's house with our house.
We found that the Wild Brother's house:
Is round
has a round roof
has an electrical station
unique lock system
a cat door
homemade furniture
1 bath (that we saw)
BIG spiders
a dog
LEGO LOFT
Our house:
Is a rectangle
has a triangle (gabled) roof
locks with a key
electrical box
bathtub
girls (except mom)
2 baths
small spiders
cabinets
car and driveway
We both have:
A metal roof
wood floors
kitchen
bugs
windows
cat
schoolroom
big trees
rats/mice
ladder to a loft
books
Now, you may be wondering why it matters that we see where the Wild Brothers live to learn about Missionaries? It means everything. "Go Ye into all the world." is a big, vague, kinda scary sounding verse. But, it's very important that we, as Christians, understand this command.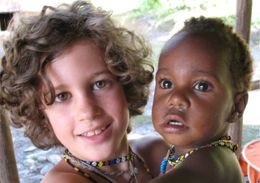 Growing up, I went to a church that was very missions minded. Every fall, they would host a missions conference and invite 10 or more missionaries to come and be part of the conference. The church members would attend little classes designed to help us meet the missionaries and understand what they did. My dad was the pastor there and so we often had these missionaries come and stay in our home during the conference and other times. Many of these families became friends, some of them like family. I also had an aunt and uncle serving in Honduras.
Getting to know these families takes the mystery out of 'going into all the world.' It's no longer something scary. Real people and real families go. It's something that God can equip any willing person to do. By the time I was in high school, I was eager to have an opportunity to go. The summer after graduating from high school, I went to Ghana in West Africa. Three weeks that forever changed my heart.
At one point in life, I thought maybe I was called into foreign missions. It has become clear that isn't the call God has for my life. But, I certainly want to help my children understand this command to go. Maybe one of them will be called. And, even if they are not called to go, we are all called to send. Understanding who we are sending and what they do is vital to developing a heart for the missionaries and their needs.
And, just in case you might think that living in the jungle means a home video quality movie, do not worry! The quality of Growing Up Wild is top notch! The music is catchy, the pictures are clear and beautiful, the narration is great, too. The Wild family has done a perfect job of speaking to the children their product is aimed at, while at the same time including mom and dad.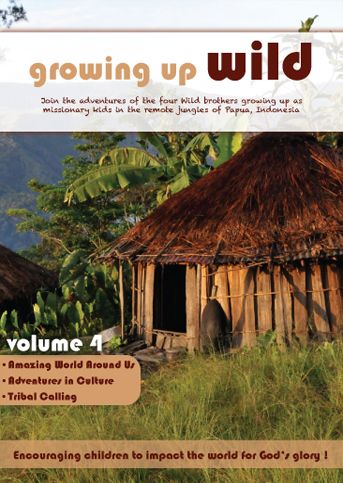 Bringing the Wild Family into our home has allowed me to teach my children about a real family who lives 1/2 way around the world in the middle of the jungle. They sleep in bunk beds in a round house, they catch sun rays to power their laptops and ride in a helicopter to go to the grocery store. They catch snakes for fun, kill spiders with spears, don't wear shirts, and have their noses pierced! But, most important, they are a real family making known the mystery of the Gospel to the Wano people. I feel beyond blessed to have
Growing Up Wild
as part of our curriculum and HIGHLY recommend it to you, too!!
God Bless You and thank you for stopping by!
Disclaimer: I received copies of Volume 1 and 4 of Growing Up Wild in exchange for an honest review. All opinions expressed are my own!