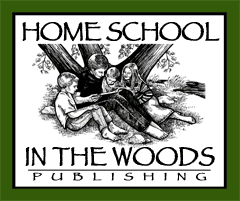 Homeschool in the Woods
specializes in writing hands-on history timelines, activity packs, lapbooks and more! Homeschool in the Woods was created by the Pack family who began homeschooling in 1996. They found that they enjoyed history a lot more if they could 'see' how it all worked together. They began using timelines but their mom-a former graphic design artist-was disappointed in the images often found in products they found to use. Finally, in 2002, the family used their talents to start Homeschooling in the Woods. They began with timeline products and have grown to offer many more products to help history come alive. Over the last month, we have been trying out their new
Activity Pak Great Empires
.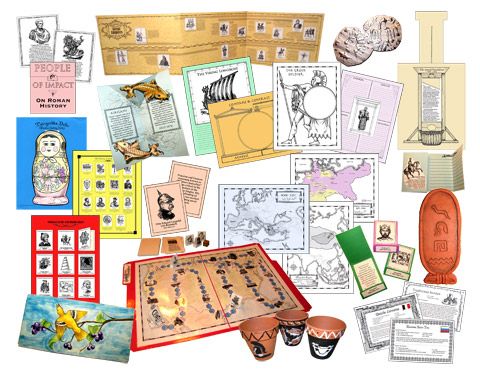 Ever since we started memorizing the timeline of history in our school co-op, my children have been much more interested in learning about historical people and events. So, when we were offered the opportunity to review this pak, I was very excited. The Great Empire pack covers 14 great empires of history they are:
Ancient Egypt
Ancient Greece
Ancient Rome
Ancient China
Arab-Muslim Empire
Mongolian Empire
Viking Empire
Spanish Empire
French Empire
English Empire
German Empire
Japanese Empire
Russian Empire
and The United States of America
Each of the empire studies includes a text page and activities. There are between 4 and 10 activities for each empire. The activities vary greatly. For example, the activities for Ancient Egypt include making a Cartouche to cooking Fig Cookies. But, each empire generally included one 'art' project and one cooking project, along with map work and internet research.
Also included in the Ancient Empires Activity Pak are book lists for each empire. We found these lists to be particularly helpful and full of good suggestions.
We started out our study by reading the included texts, and then Mustang was aloud to choose which-if any-of the activities she wanted to do. When we went through the Egypt study, she really enjoyed the Cartouche project and was very interested in the heiroglyphs used to make them. She wrote me a lot of messages to decode with the heiroglyphs.
As I mentioned before, however, our favorite item ended up being the book lists. The text sections of the Activity Pak seemed to be a bit hard to read. Not sure if it was because Mustang is at the low end of the suggested age or what, but I had a very hard time getting her to read it. This is from the girl who will sit and read a chapter book in a couple of hours. Once we focused on reading the books suggested and MANY others that we found in the same area of the library, her interest in trying out the activities went way up.
Since there are a total of 14 empires in the study, we are far from finished with this pack. I do plan to try and continue to work through it, though I think we will likely wait at least a little longer. It seemed some of the work was *just* a little bit ahead of her. Not so much because she can't read it-she can certainly read it. She is just still drawn to slightly easier work, and I would rather her work quickly through work and enjoy it then to have to force her to get through when I am sure in another year or two she will be very interested in doing the work.
I do think that the Home School in the Woods
Ancient Empires Activity Pak
is a great deal at only $18.95. It is well written, and is easy to use. It would be a perfect summer learning pack, or even a backbone to begin your history studies. It is very versatile, and you can use as much or as little as you want. You can also take as much time as you want, too. If you just read the texts and did one or two exercises per empire, you could complete it in maybe a month, or it could take over a year if you spent a whole month on each empire.
Home School in the Woods also makes a number of other paks. Other members of the crew also reviewed a Composer pack and a Lapbook on the 20th Century in America. Be sure to check out the
crew blog
and see what others had to say!
Happy Learning and God Bless,
Lisa