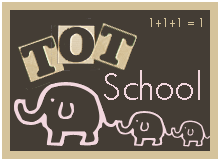 Charger is 26 months.
We had another fun, but short, week in Tot School. Our letter for the week was F. There are so many things you can do with the letter F! Our sight word was fish. I decided that I dont really want to do a theme in the future, but I do want to introduce a word each week. At the beginning of our sessions we go over the letter, sound, sight word, and the spelling of the word.
Charger stamped footprints on his letter F. Then, I asked if he wanted to color the F. He did not want crayons. He wanted markers, so I gave him one. He colored with it for a few moments and then colored his hand and lost the marker. Then, he wanted a pen. He never did want crayons.
I pulled out the Twister game and gave Charger a large frog. I used the spinner to tell him what color to move his frog to. Mustang really wanted to play, too, and ended up being a big help. Charger didnt really seem to understand the came completely, but followed Mustang. The frogs were soon lost and instead they just jumped from color to color.
Our trays for the week:
Cutting FOOD with our new Melissa and Doug toy-thank you Aunt Becky!
FLOWER arranging
Catching FISH with our new puzzle from Aunt Julie-Thank you!
Hammering golf tees into Stryofoam, thanks to
our new washer
. Charger did not do very well with this at all. He ended up putting the tees into the holes that Mustang had made when she played with it. He didnt seem to understand how to hold the tee and hammer it at the same time.
Sorting FISH by color. Last week, I gave Charger green and blue pom poms to put in green and blue bowls, so I thought this would be easy for him. He didnt know what to do when he got this tray. I had to put one of each of the fish in the bowls and then he understood to seperate by color.
Putting glass beads on wood sticks. I got this idea from
The Adventures of Bear
. Charger understood the color sorting this time, but wasnt able to put the beads on the sticks very well at all.
As I mentioned before, there are so many things to be done with letter F, and we did not get done with everything I wanted to. So, we will be continuing letter F this next week. For tons of fun things to do with your Tot (ages 12-48 months), check out
1plus1plus1equals1.blogspot.com.