We just finished up our homeschool co-op preschool group for the year. For my last activity centers session I mostly just gathered some of my favorite activities, so there wasnt much of a theme. I also stopped doing the little cards to go with each tray, it seems that most of them were self explanatory and I was doing more work then I needed to.
Making felt and pom pom flowers. I did this with my own children about a year ago and they loved it. I originally got the idea from
Inspiration Surrounds Creativity Abounds
.
As you may notice, there will only be pictures of my own children on this post-I promise there were others there! I just didnt ask permission to show their faces here.
Gumball Counting. I printed the gumballs from
Confessions of a Homeschooler
then added my own pom poms. There are ten colors of pom poms to match the different colors of the gumball machines. There is one orange 'gumball' two blue, 3 purple, etc.
Flower pattern card from Melissa and Doug.
Butterfly lacing cards I er um Santa made for Mustang 2 Christmases ago. They were made with wallies from the Dollar Tree stuck to foam paper and cut out.
Dot pattern flower matching game I made. I blogged about it in
this post
. It can be downloaded
here.
Word building.
Serving 'ice cream' into the right color bowls.
Policeman count and clip cards that I made. I blogged about them in
this post
. They can be downloaded
here.
Magnetic people puzzles. These were a big hit. Not sure how I missed getting action shots!
Pouring or tonging pom poms. Another hit. Seems that each kid had their own way of doing things-this little lady stood on top of her chair to tong the pom poms. Dont worry, her mom was standing right beside her!
Color by number and letter. I downloaded the princess and castle color by numbers from
1+1+1=1
. The police color by letter I made myself. It can be downloaded
here.
Homemade button snake.
And this little tray was to strengthen little fingers for writing. They would place one monkey eraser in each ice cube square. The monkeys were a huge draw!
I put these trays out for our class that had students ages 3-5. Some of them Mini Cooper (21 months) can do, and some she cannot. I hope you have found a few activities that would be useful for your little people as well. We are linked up at: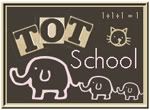 Thanks for stopping by! Have a Happy Memorial Day!!
God Bless