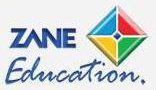 As a homeschool mom I am often asked what new homeschoolers and afterschoolers can find online to help in their lesson plans. Some want an entire online school, some just want fillers to help where they are struggling with teaching a subject. If you are one of these moms, you will certainly want to consider
Zane Education.
Zane Education covers over 260 topics with more than
1,500 online educational video
s for students in grades K-12. Their programs include a detailed lesson plan, video, comprehension videos, and study tools. Subjects include Art, Biology, History, Library Skills, Literature, Music, Religious Studies, Science, and Social Studies. To help you navigate through the many video offerings, they also offer User Guides and downloadable e-Books.

Zane Education adds a unique component to their product. There are many educational online videos available, but the Zane videos offer subtitles, or closed captioning, for their entire library. Zane Education refers to this as the
'Missing Piece.
' Subtitles allow students to improve their reading skills and vocabulary while still learning concepts visually. The closed captioning is also extremely helpful for ESL students and students who may have a hard time understanding the spoken words.

Zane Education is affordable with
packages
starting at just $8.99/month and can be used by the entire family at one time.
So what did we think?
First, I really REALLY, enjoyed the concept of Zane Education. The list of videos is extensive and I was looking forward to showing them to my children.
Zane's website is super easy to navigate and it was really easy to see what videos they had to offer.
As I taught various units over the last few weeks, I would check to see if Zane had a video for that. Sometimes they did, sometimes they didn't, but I loved being able to quickly see if they did or not.
The videos themselves, well, this is where I have mixed emotions. The content was GREAT! The videos were chalk full of interesting information that was presented in a way that my children could understand. I particularly enjoyed the excellent video on Johann Sebastian Bach and am looking forward to more composer videos during our composer studies this year.
What I didn't care for was the fact that the sound and graphics quality reminded me of movies that I watched in 1st grade. I was in first grade over 25 years ago. Not all the quality was the same. I noticed that the video on Bach was much better then the video on Eastern Asia. Another huge issue for me is the fact that you can not make the movie full screen. The video is a screen shot from an older video with buttons and such that you can't press, but can't remove.
My children, however, did not seem to have a problem with the video quality at all. There were no complaints or questions about the graphics. When I asked them questions at the end of the videos, it was obvious they had learned something while watching the Zane videos. They also asked to see them again. So, I may just be too picky about quality. Maybe they look like first grade videos because that's what first graders like :).
Another huge pro for these videos is that because they are not the highest quality graphics, they download quickly. We have band-width issues here, and these videos never ONCE had to pause and buffer. When you are trying to keep the attention of a 4 and 6 year old this is HUGE!
With a free membership to Zane Education, you can check out demos of the videos and download the free user guides. They even have a free video of the day. This is a great way to check out the Zane Education product and see if it is a good fit for your family. You can also read the many reviews by my fellow crew mates, here.
Thanks so much for stopping by and God Bless!
Disclaimer: As a member of the Schoolhouse Review Crew, I received a complementary subscription to Zane Education in exchange for an honest review. I was not paid for my review. I was not required to write a positive review. All opinions expressed are my own.