Well, it was bound to happen. A week where there was more life then school. But, well, that's life, right? :)
To encourage his interest, I picked up a nice stack of books at the library this week. He seemed very interested, but has yet to start reading them. He has been more interested in building instead. So, we may end up reading a few of these together this coming week.
We did get some math in. I thought I'd show you this photo just in case you have a kid that just doesn't do well with the Montessori layouts. If you have the strip board, you know that all the little sticks are supposed to come out of the boxes and layout next to it. He refuses to take them out of the boxes and say that it's too much work-he will just take out the one he wants wen he needs it. You also know that the idea is to put the rug UNDER the work-not wadded up next to them. But, he got a rug, right? LOL!! Good news is that he completed his subtraction problems and got them correct.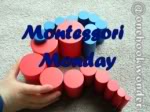 Things we used this week (Amazon widget contains affiliate links).